March 25, 2022
Why Is Vinyl Flooring So Popular?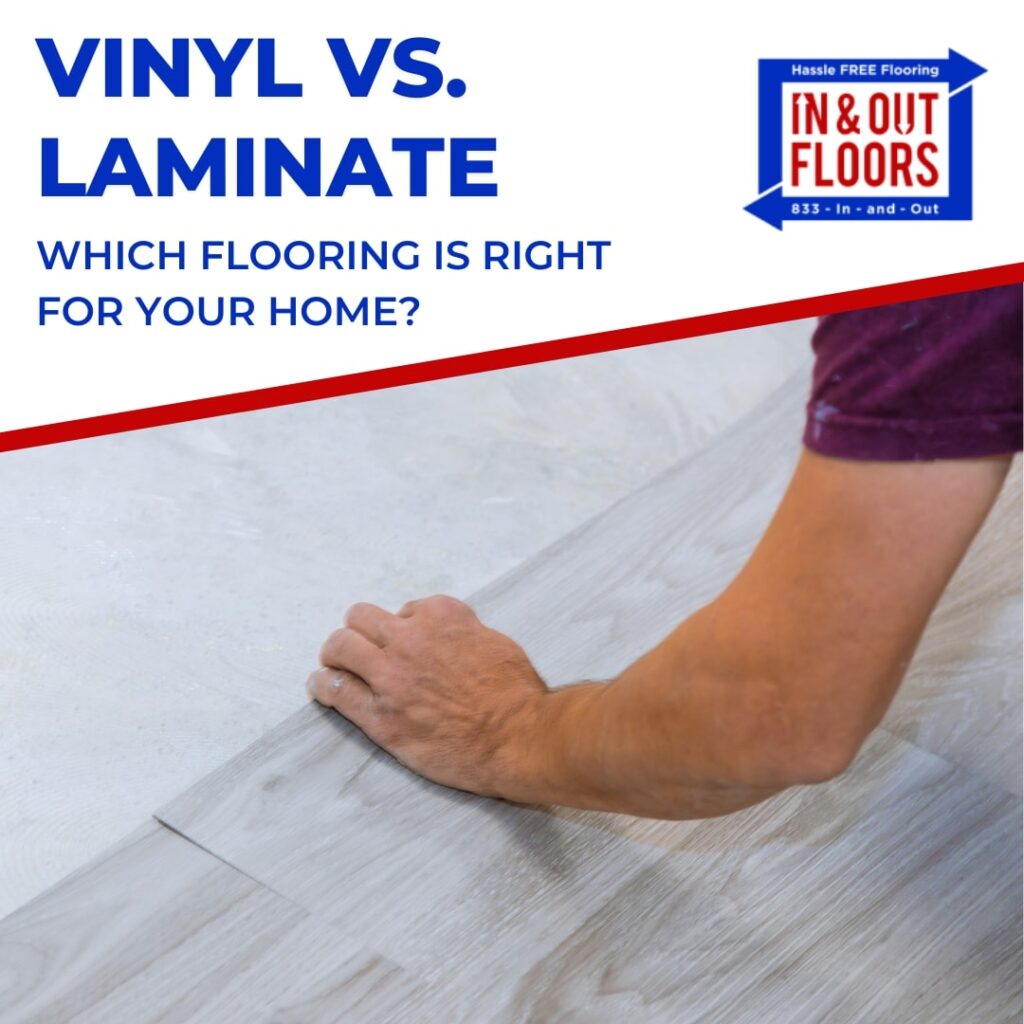 Vinyl is one of the most popular types of flooring, and for good reason! Vinyl flooring is beautiful, resilient, low maintenance, and it can mimic more expensive materials such as hardwood and ceramic tile. Vinyl floors aren't for everyone, though. There are some downsides to vinyl floors, including inconsistent quality and the fact that they probably won't add resale value to your home. 
Here at In and Out Floors, we offer beautiful vinyl flooring in a variety of styles. We're big fans of vinyl flooring, but we know that it doesn't suit everyone's needs. In this blog post, we'll go over the benefits and drawbacks of choosing vinyl flooring for your home!
Benefits of Vinyl Flooring
Timeless Beauty
Vinyl flooring comes in many beautiful colors and designs. No matter what style of home décor you have, you're bound to find a style of vinyl flooring that matches your home. You can find vinyl flooring that mimics the appearance of wood, tile, and even marble flooring. Some high-quality vinyl floors, like groutable vinyl tiles, also mimic the texture of the flooring they're modeled after, making them even more realistic.
Exceptional Durability
Vinyl flooring is highly durable, making it a great choice for high-traffic areas. Many types of vinyl floors are scratch-resistant, stain-resistant, and completely waterproof. This is especially true if the floor has a thick wear layer on its surface. When properly cared for, vinyl flooring has a fairly long lifespan of around 10-25 years.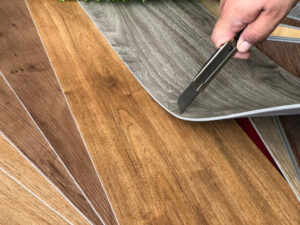 Versatility
Since vinyl flooring is durable and comes in a variety of styles, it's a very versatile type of flooring. It can be used in just about any room in your home—even rooms that are prone to humidity and moist conditions, such as mudrooms and bathrooms.
Affordability
One of the best qualities about vinyl flooring is that it's much less expensive than the flooring it mimics. For example, vinyl floors typically cost $2-$5 per square foot, whereas hardwood floors can cost around $10 per square foot.
On top of that, installing vinyl flooring is a relatively simple process, so it's less expensive to install than many other types of flooring. Take ceramic tile for instance. To properly install it, you'd need extra materials such as grout and sealant, but you don't need any of that to install vinyl flooring.
Low Maintenance
Vinyl floors are very easy to take care of; simply sweep and mop on a regular basis and use protective pads beneath furniture. Also, remember not to steam clean, wax, varnish, or apply heat to your vinyl floors, as doing so will warp them.
Comfort
Vinyl flooring feels comfortable underfoot because it's slightly soft and springy. This also makes it more comfortable to stand on for long periods of time compared to harder types of floors, such as stone or ceramic tile. However, keep in mind that the comfort of vinyl flooring largely depends on its thickness and the subfloor.
Ease of Installation
Installing vinyl flooring is a relatively simple process. There are different types of vinyl floors (sheet, plank, and tile), which will affect how they're installed, but most of them offer a straightforward installation process that can be completed quickly.
Vinyl planks are installed using a click-lock method. If you go with vinyl tiles, they will most likely have self-adhesive on the bottom, so they're easy to attach to the subfloor. Installing sheet vinyl is a different story, though. With sheet vinyl, the large sheets can be difficult to work with, but the right flooring professionals can take on the task with ease.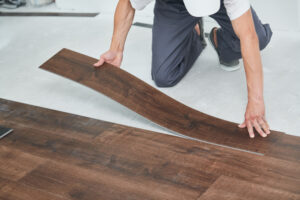 Drawbacks of Vinyl Flooring
Difficult to Remove
Self-adhesive vinyl flooring is hard to remove once the glue dries. You'll have to cut the flooring into strips using a utility knife, then pull the strips up manually. This can be tricky because it requires some serious elbow grease, but at the same time, you don't want to damage the subfloor.
Inconsistent Quality
The quality of vinyl flooring varies widely. You may have heard of luxury vinyl flooring, which is typically much higher quality than regular vinyl flooring, but the definition of "luxury" varies from brand to brand. When choosing vinyl flooring, make sure the thickness and construction are up to your standards.
Can't be Refinished
Unlike hardwood flooring, vinyl flooring can't be refinished when it's worn out. Once it gets damaged, either that section of the floor or the entire floor will need to be replaced.
Get Stunning Vinyl Flooring from In and Out Floors
Do you want beautiful, durable vinyl floors for your home? If so, the experienced team at In and Out Floors would be happy to help. We'll help you take advantage of all the benefits of vinyl flooring with none of the downsides. We offer many different styles of vinyl flooring, and we'll bring samples right to your home, so you can see which one you like best. Once you choose your favorite style, we'll carefully install the vinyl flooring in your home, so it will look beautiful for years to come. We have two convenient locations in Warren and Utica, MI, so contact our team to get the process started today!